Jerry King & Beverly Luce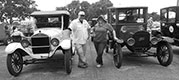 Jerry is one of the pluckiest people we know. Despite set backs, he just keeps going. He is a naturally cheerful guy and always believes things will work out. It's a joy to see him and "Melody," his distinctive white Model T pick-up. On at least one occasion during a tour of the Missions he had wheel and tire issues that prevented him from being able to join us until the day was almost over. Anyone else would have given up, but not our Jerry! A few years ago, Jerry had a truly life threatening health scare. Again his indomitable spirit kept him going, and everyone is thrilled that he is not only getting better, he is back to his old "full'o beans" self. Yay, Jerry!
Beverly acquired her own Model T, a stunning 1920 Ford Model T center door sedan, all the way from Washington stae, in late 2015. For obvious reasons, it has been named, "Ruby."
Jerry acquired this stellar 1915 Toring T in the summer of 2015. It made its grand debut at the 2015 "Texas T Party, held in Hondo.

TFOT: How many Model Ts do you own? What year, make and type?

JK: I own one Ford Model T. It is a numbers matching 1926 Roadster Pick-up. In 1926 the pick-up bed was a $25 dealer option. (2017 update: Jerry and Beverly now have three Model Ts.)

TFOT: How and when did you acquire your T or Ts?

JK: My truck was originally acquired by Mr. Rustin Alexander in Dec. 1926 for use on his North California vineyard in Santa Rosa, CA. I am the second owner. I purchased my T directly from Mr. Alexander in 2009. He was in his late nineties, and reminisced with me about the first time he drove the truck home from the dealer. The pickup bed and 2-speed Ruckstell Rear End were installed by the dealer. The car was reconditioned in the late forties, with the current paint and interior. It was still being used as a farm truck when it quit running in the late fifties. It sat in Mr. Alexander's garage until the day I brought it home to Texas.

TFOT: What attracted you to the T?

JK: I like to tinker with old cars. Originally I was looking for an old truck to rebuild when I came across this opportunity. I had actually planned to hot rod it until I realized the history of the unique find I had acquired. I began researching the history of the Model T I had studied Henry Ford before and read his book, "Today and Tomorrow" previously for work related research on productivity. I read up on the simplicity of the engine and decided to tear it down to see how it was made. I cleaned out the carbon, replaced the gaskets and hard to find spark plugs but then, to my surprise, it ran like a song. It was sweet music to my ears, therefore I named her Melody. I bought spokes and a few parts from e-bay, found a couple on-line catalogs for tires and tubes and began piecing my car together one dollar at a time. Before long, Melody was dancing down the road again. I learned to operate and drive my T by reading on-line literature. And then I learned how to adjust the brake bands in the hogs head after I ran her through my garage door. I still have a long way to go to bring her back to original condition, but I really enjoy her the way she is; she has character, vigor and history. She is an old vineyard farm truck that was born during prohibition and has yet to finish her song.

TFOT: When did you join TFOT? How did you hear about the club?

JK: During my online research for parts and technical information, I came across a friendly chap that invited me out to his small garage just east of San Antonio. I relayed my story and was sure to tell him that I wasn't willing or able to pay someone to work on my car, but was looking for assistance in diagnosing the "miss" that was occurring with my engine. He reassured me he loved working on T's and bringing mine to him wouldn't be an inconvenience at all. My new friend showed me how to replace the commutator, adjust the carburetor and place a used plastic hotel key behind one of the buzz coils. We soon went for a ride in my purring Melody. My smile was wider than the windshield when my friend showed me how the air conditioner worked. As I was loading to go, my new friend, Daniel Bratcher, also mentioned he was a member of the local Model T club and asked if I wanted to attend a meeting. I wasn't surprised he was also the president when I showed up at Transportation Museum's caboose meeting room. I enjoyed meeting all the "T" enthusiasts and felt welcomed by all, regardless of my obviously limited knowledge. The next meeting I paid my dues and have now been a member for nearly 3 years.

TFOT: What is your favorite T activity? Cruises, tours, shows, parades, other events?

JK: I enjoy the Club's cruises and tours as often as I can attend. I really like the technical sessions we do! I wish I could be much more active in the club, but time does not always allow. My car is not show or parade worthy so I don't often attend those events. Yet I drive it all over town and feel like I'm on parade everywhere I go. I love to tell people about the Model T and some of the period history surrounding the era. I am by no means an expert like some of our members. I am in awe every time I'm around them and their cars.

TFOT: Are you from San Antonio? If so, which high school did you attend? If not, where do you hail from?

JK: I was raised an Air Force brat. Born in Alaska, lived all around the country and most my teen years in the Netherlands. I graduated from Roosevelt High School here in San Antonio, obtained my bachelors in Organizational Psychology from Southwest Texas (now Texas State) in San Marcos and have Masters in Organizational Development, Military Leadership and Human Resource Management.

TFOT: What do you do for a living?

JK: I retired in April 2012 after a 30 year Civil Service career with the Department of Defense. I culminated my career as the Director of Plans and Programs at Lackland AFB. I was responsible for all resources, personnel, equipment and facilities required to run the technical and basic military training for the Air Force. I am now a Senior Process Engineer at USAA where I am charged with identifying and implementing efficiencies for their Property and Casualty Insurance units.

TFOT: What are your other hobbies?

JK: My passion is enjoying life with few inhibitions. I participate in several hobbies to keep me active and maintain a full life. First and foremost I am a single Dad. My daughter Caitlin is now a freshman at University of Texas in San Antonio. It has been primarily the two of us since she was two years old. I also love to scuba dive, any water sport, snow ski, play softball, tinker on all my old cars, drag race and now I'm ski diving too. Every now and then I'm allowed to invite some pals over for poker night and we partake in my homemade beer and wine. That's usually when I can get a kitchen pass from my wonderful girlfriend, Beverly or we're not out dancing the night away.

TFOT: You have had a major health scare. How are you doing these days?

JK: A couple years ago I fought a bout of stomach cancer. I was diagnosed with a gastrointestinal stromal tumor imbedded in the lining of my stomach wall. I lost a large part of my stomach and intestines. It was not fun. I am much better now but it has left a lingering toll. I recall one night during my hospital stay when I wasn't sure that I would be returning to my old life. All I could think about was how could I ensure my Model T would remain within my family forever and be cherished as much as I cherish it. My daughter, at the time, was still a bit young, not to mention that she was rear ended that same day while driving my new truck, so I called my friend, and TFOT vp, Hugh Hemphill. I asked him if he would take on the burden of passing my Model T to my daughter's first born son should something happen to me . . . I don't know, maybe it was the high doses of pain killers. I was relieved when he agreed. What a great guy!! Yes, I've largely recovered. and now carry the "burden" of ensuring my daughter bears me a grandson to whom I will pass on the "T" some day, but not too soon. I am still enjoying life and my Melody way too much.

TFOT: What else would you like club members to know about you?

JK: I enjoy the camaraderie of our club. I learn something new each time I am privileged to be around our members. I am not a purist by any sense of the word. I can "Jerry rig" most anything to make it work. That is obvious when you see my truck and notice the baling wire and chewing gum keeping it together or the mix matched spokes and wrong era horn to keep it on the road. I often am found under the cowling when on tour. I am always looking for new sources of old parts to use on my car and always welcome a pleasant piece of advice to help me revitalize my old farm truck. My next few projects will be to replace my 30" wheels and spokes with 21" wheels and tires, repair my rear end so it stays in gear and gather all the parts to put on a top. Someday soon I think I will have to re-babbit the bearings, and replace both the radiator and water pump (I know it's not supposed to be there.) Then I'll worry about paint and interior . . . one dollar at a time.

TFOT: Who is the nice lady who so often accompanies you. She seems like a wonderful person. We have some neat snaps of the two of you.

JK: My lady friend is Beverly Luce. She is a recent and welcome part of our lives and loves my Model T almost as much as she loves me.